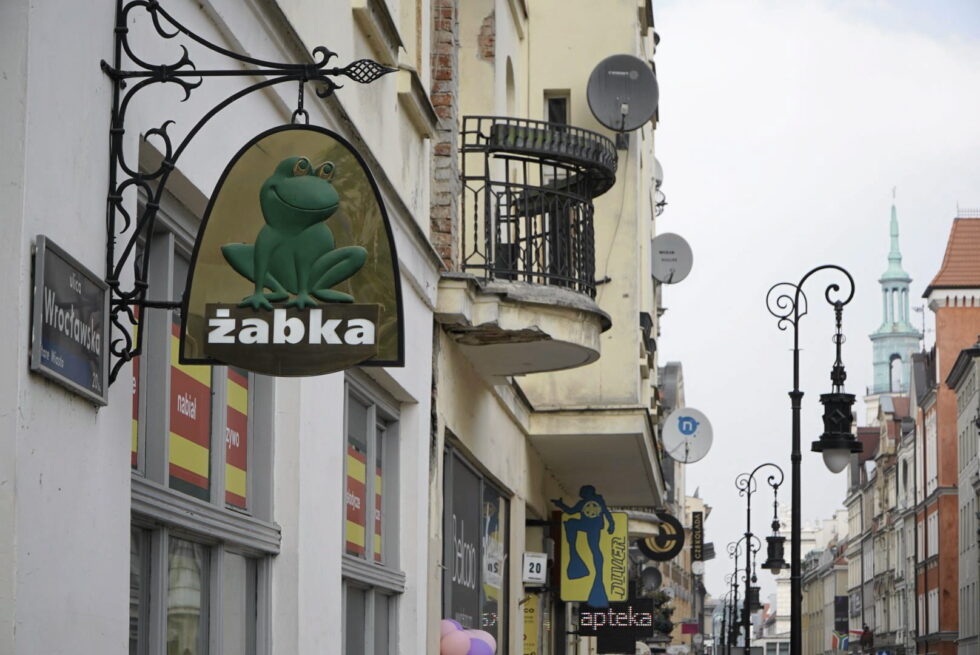 Almost a third of Poland's population now lives within 300 metres of a Żabka store, claims the company, whose name, meaning "little frog", has become a byword for convenience shopping.
With 7,272 outlets in 950 towns and cities serving almost three million customers daily, the network has been expanding at a breakneck pace to become the largest convenience chain not only in Poland but across all of Central and Eastern Europe. It has also pioneered the use of artificial intelligence and mobile technology to boost business.
However, as it grows, the company has also come under fire, including for squeezing its franchisees and exploiting a legal loophole allowing it to operate on Sundays despite a trading ban introduced by the Polish government.
"Stores people can walk to in slippers"
"We are definitely not planning on slowing down. We feel good about our rapid growth," Tomasz Suchański, Żabka's CEO since 2016, says in an exclusive interview with Notes from Poland.
The chain's shops and their green branding have become ubiquitous in urban areas. The aim is to locate them along key daily transit routes and around residential areas, "where people can walk downstairs to the store in their slippers," says Suchański.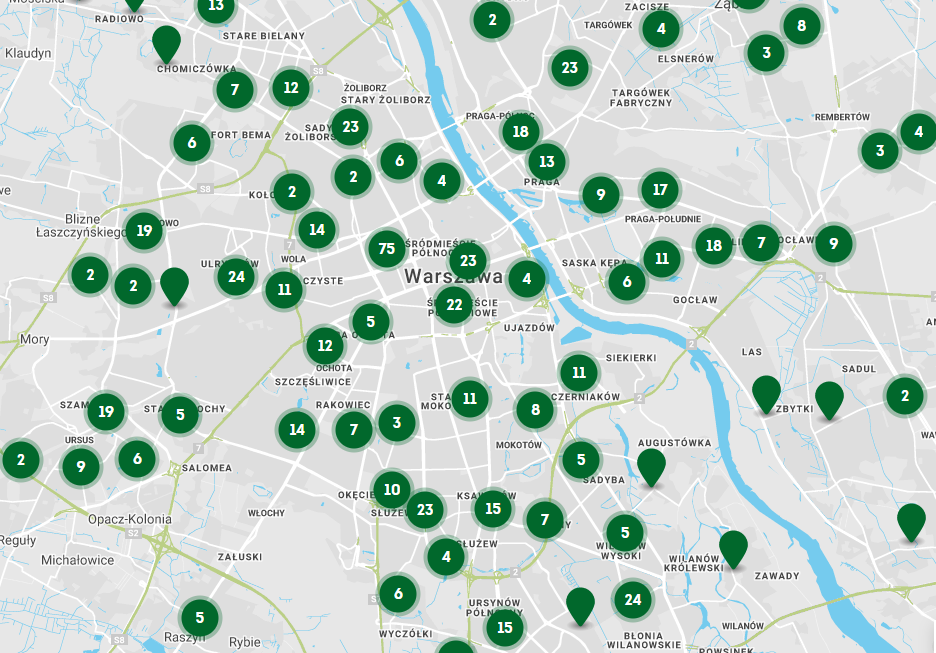 A map showing the number of Żabka stores in various parts of Warsaw, where the chain has around 850 outlets
"Consumers are moving away from supermarkets and megastores, and towards discount stores and small shops. Shopping is getting smaller, but more frequent," says Krzysztof Kawa, an equity analyst at IPOPEMA Securities in Warsaw. Żabka has filled this niche.
"Unlike regular convenience stores, we think of ourselves as modern convenience," says Suchański . "A regular convenience shop fulfils the so-called 'SOS' function, meaning people go when they run out of something. Żabka has a different function: it serves customers who are hungry or thirsty and want to grab something quick."
"We have always seen ourselves as something between a QSR [quick service restaurant] and a grocery store," adds the CEO. "At a Żabka store, you can buy both a hot dog, as well as an assortment of ingredients that you might need for breakfast the next day. It's a combination no single grocery store or restaurant can offer, making it something unique."
Expansion and buyouts
Żabka was created in 1998 as the brainchild of Mariusz Świtalski, founder of Poland's then-largest wholesale network, Elektromis. Initially operating only in locations with a population above 5,000, by 2005 it had 1,700 outlets and started branching out into smaller locations.
In 2016 the company began a facelift. Its previous flashy yellow signage was replaced with a toned green, and interiors decked with wooden elements. The longstanding frog logo disappeared. Aisles were reorganised to fit private label products, healthier options and hot snacks. It took four years to standardise all outlets.
The chain has swapped hands several times since 2007, passing between Czech private equity fund Penta Investments, UK retail giant Tesco and Mid Europa Partners, as well as the current owners, Luxembourg-based fund CVC Capital Partners. The last of these sales was estimated by analysts at a value of up to €1.5 billion.
When Żabka was sold in 2017, there were already doubts as to whether there was still room for expansion in Poland," says Kawa, the analyst. He notes, however, that the chain does not have "big requirements" for its flagship store format. "Most commercial spaces can easily fit a Żabka."
The company is now expanding into a wider "ecosystem" of services, which aside from shopping include parcel delivery and meal plans. "We no longer just have an idea for a shop. We have an idea for how to provide a full set of services for customers wherever they are," says Suchański. "Entering foreign markets is the likely next step."
Leapfrogging the competition
However, Poland's expanding retail market is luring competition. In the convenience segment, which Żabka has come to dominate, last week the state-owned oil giant, Orlen, opened its first stand-alone store in Warsaw. It aims to establish hundreds of shops in the new format over the next five years.
"This just shows that we are headed in the right direction," says Suchański. Yet to maintain its market dominance, his firm is working on a number of fronts.
One key area is product offer. The company's studies show that "impulsive" shopping accounts for 80% of its store visits, and its products are mostly consumed within four hours of purchase. By contrast, in other grocery stores, the vast majority of visits are "planned" purchases for later.
To that end, an in-house team of food innovators has masterminded new products like the Foodini "liquid snack" that has been especially popular with young female customers. "We gained a whole new group of customers thanks to it," says Suchański.
It has also offered an increasing range of plant-based products to cater to Poland's rapidly growing number of vegetarians and vegans.
"This set off an entire process of 'ice-creaming' various products," says Suchański. "There is a lot of innovation in the area of impulsive ice cream now, which our chain initiated a while back." He also proudly notes that the grapefruit-flavoured Monster energy drink had its global premiere in his chain.
The company recently acquired two dietary catering companies, Dietly.pl and Maczfit. Expansion into selling meals is a "natural consequence of the scale of Żabka and the density of its stores across Poland," says Kawa. "The acquisition…can generate synergies, such as leveraging Żabka's logistics and infrastructure to cut delivery costs."
A second aspect has been choice of location. The company has started using artificial intelligence to determine new locations as well as to tailor stocks in each store. "We look at over 3,000 variables, such as the proximity of schools, pedestrian crossings, churches and offices," says Suchański.
He notes that the best-performing shops on the Polish coast this summer are stocked with ice cream, bottled water and sandwiches. "These shops don't offer frozen pizza, because where would you reheat it on holiday?"
Finally, there is technology. On the front end, the company launched its "Żappka" mobile application in 2019, which now has around five million users and harbours loyalty programmes, a mobile payment service and parcel tracking options.
The mobile app will also be used to access the new "nano" format of unmanned kiosks, the first of which opened in Poznań two weeks ago. "We get asked by local authorities whether we could set up these new-format shops in various locations in their towns to demonstrate the technological advancement of the region," says Suchański.
On the backend of the business, the company provides franchisees with a Cyberstore application, built in cooperation with SalesForce, to help manage stores. The company has also developed a platform to exchange real-time sales data between suppliers.
Franchisee woes and legal loopholes
Żabka is run as a franchise operation, which has both fuelled the chain's quick expansion, but also attracted criticism from business organisations and politicians for squeezing thousands of its staff.
The chain retains tight control over product selection, promotions and branding, which some say overrides the business judgement of workers. This has provoked Maciej Konieczny, an MP from the Left (Lewica) party, to accuse the company of forcing its franchisees into occasional losses through its top-down model. Żabka has denied these claims.
On a separate point, Suchański argues that by "financially bolstering a number of franchisees" during the pandemic, the company has "caused them to realise the benefits of being part of a network and that we can help each other".
Another point of public contention came with the government's Sunday trading ban, which was introduced in 2018. The law was meant to benefit employees of chains – who were to have a guaranteed day off – but also small business owners, who were exempt from the rule.
The franchise structure of Żabka allowed many of its stores to stay open so long as the owner was at the till. "Our franchisees can open their stores on Sundays, because they can work in their own businesses, like any other store owner," says Suchański.
To also keep employees working on Sundays, the chain has used a legal loophole that allowed postal service operators to remain open. The chain had earlier, in 2012, signed a deal with Poland's state-run postal services, Poczta Polska, to receive packages.
This provoked the ire of trade unionists, who feared that other chains would go down a similar path and called on the government to remove the postal service exemption.
Bolstered by a series of court rulings in its favour, Żabka has stuck to its guns. "Our franchisees follow this rule to have employees in their shops helping out on Sunday. Is this just getting around the rules of the Sunday trading ban? I have my doubts," argues Suchański.
Analysts now see another potential risk associated with this model.
"There are currently no legal boundaries on how franchise agreements should be constructed," says Kawa. "However, the Polish government is looking to regulate these, which could result in more of an operational burden as well as potential financial penalties for franchisors like Żabka." For now, however, the bill is still at a conceptual stage.
Suchański told Notes from Poland on the day of the announcement that he was "surprised" by the news, which suggested a "disappearance of big-box outlets" from Poland. "I really have to think about what this means for retail in Poland, in terms of the stores left behind, such as was the case when Tesco left."
While his chain appears unlikely to take over its competitor, alongside discount stores it has shown an incredible ability to dominate the high street, pushing out Poland's traditional small independent shops. "We are becoming a mono-format country when it comes to retail," says Suchański.
Main image credit: Lukasz Cynalewski / Agencja Gazeta